Un secondo posto in mezzo ad atleti professionisti, con tanto di record abbattuto. Questo il bottino di Oliviero Bosatelli al debutto in una prova dell'Ultra Trail World Tour, la 100 Miles of Istria. Nuovo sensazionale risultato del vigile del fuoco bergamasco che difende i colori dell'Erock Team Scott. «Enorme soddisfazione, non me l'aspettavo».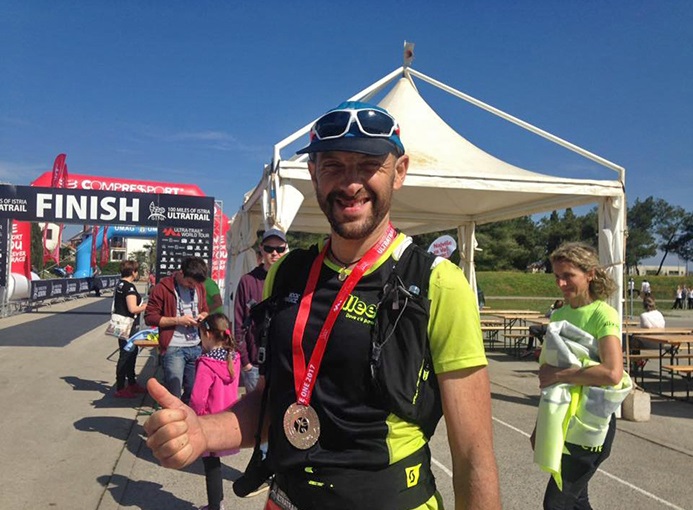 Alla 100 Miles of Istria lo statunitense Dylan Bowman vince in 17h51'50" mettendo in fila lo stesso Oliviero Bosatelli (18h54'31") e l'inglese Paul Giblin (19h21'56"). Al femminile successo di Francesca Canepa (23h34'27").
Raggiungiamo telefonicamente il secondo classificato. Oliviero Bosatelli si trova a Umago, città croata della regione istriana, dove è situato il traguardo della competizione a cui ha preso parte. «Ero arrivato in Istria con aspettative discrete, conscio di aver fatto pochi allenamenti adeguati e con vari acciacchi fisici non del tutto risolti. E invece è andata meglio del previsto. È stato un bel cammino di 18h54'31" che mi ha permesso di scendere sotto al precedente primato di 19h50'».
Nelle prime fasi il re del Tor era in quarta, quinta e anche sesta posizione. Gradualmente ha guadagnato terreno scalando in seconda posizione. «Il primo era irraggiungibile, mi sono limitato a tenere un buon passo che non permettesse al terzo di riprendermi». I dolorini con i quali sta facendo i conti gli hanno concesso una parziale tregua. «Andavano e venivano, non li ho percepiti di continuo. A livello climatico le condizioni erano favorevoli, così ho corso con i pantaloncini corti e una maglietta a mezze maniche, cambiandomi durante la notte. Non sono incorso in alcuna crisi».
Gli ultimi 10 chilometri gli sembravano non finire mai. «In mezzo alla pianura il tempo non scorreva… ma devo dire che anche in questo tratto ho tenuto una media oraria buona: andavo a 5 al chilometro. Davvero non mi aspettavo di ottenere questo risultato in un contesto internazionale. Sono felicissimo».
È ora di cena e lo congediamo. «Ho visto un posto dove cucinano un'ottima carne ai ferri e non vedo l'ora di gustarmi una costata». Bosatelli resterà sul posto fino a domani quando si terrà la cerimonia ufficiale delle premiazioni. Volando sempre più in alto, verso un nuovo Tor des Géants.
E.B.