Siamo ormai giunti all'ultimo appuntamento de Il Grande Sentiero, quello che chiuderà la rassegna firmata Lab80. Sabato 3 gennaio 2015, presso l'Ecomuseo di Colere (Bg), verranno proiettati tre film; l'ingresso è gratuito. Vediamo il programma nel dettaglio.
Ore 21.00 – NORTH OF THE SUN, di Inge Wegge e Jørn Ranum. Norvegia 2012, 46'.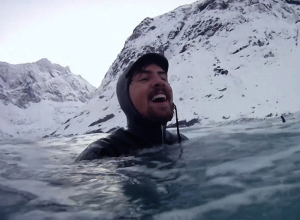 Giovanissimi i due registi: venticinque e ventidue anni. Il documentario narra la loro impresa, ovvero passare nove mesi in una baita disabitata posta su un'isola all'interno del circolo polare artico, durante il rigido inverno norvegese. Hanno diversi obiettivi: recuperare la spazzatura ed i materiali che l'oceano porta sulla spiaggia, costruire con essi un rifugio, fare surf, snowboard e parapendio, e nutrirsi di cibi in scadenza (o scaduti) che i supermercati regalano loro. Tutto sommato, vivere una vita compatibile con l'ambiente non sembra più così impossibile.
Ore 21.50 – ALONE ON THE RIVER, di Stéphane Pion. Francia 2013, 30'.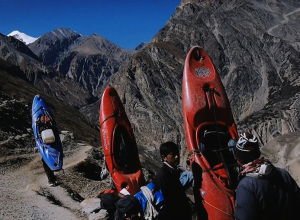 Il regista ci racconta l'avventura che ha vissuto, in totale autonomia, insieme ad altri kayakisti di fama internazionale: Franceso Salvato, Ron Fischer, Raphael Thiébaut e Jakub Sedivy. Un mese, tutto l'occorrente stipato nel piccolo spazio disponibile nella propria canoa, camminare col kayak in spalla per poi scendere via fiume coprendo un dislivello di 4400 metri; un'impresa già tentata nel 1999 da altri, che però non erano riusciti a completarla.
Ore 22.20 – VERSO DOVE, di Luca Bich. Italia 2014, 51'.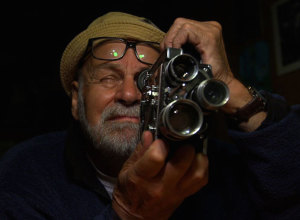 Per niente frenetiche le riprese di questo documentario, riprendono i passi di Kurt Diemberger, 82 anni, alpinista. Passi che attraversano Austria, Italia, le Dolomiti, mentre la conversazione si va via via più vivace e profonda.
credit photo: Lab80
Link trailer http://youtu.be/vb_YFd2GzhM