Sull'onda della campagna di brand "Running Never Felt Better" lanciata nel 2023 da Asics, l'azienda presenta ufficialmente Feel The Comfort Tour, un evento itinerante che ha l'obiettivo di far provare a tutti gli appassionati di running il significato di rivoluzione del comfort proposto dalla casa giapponese.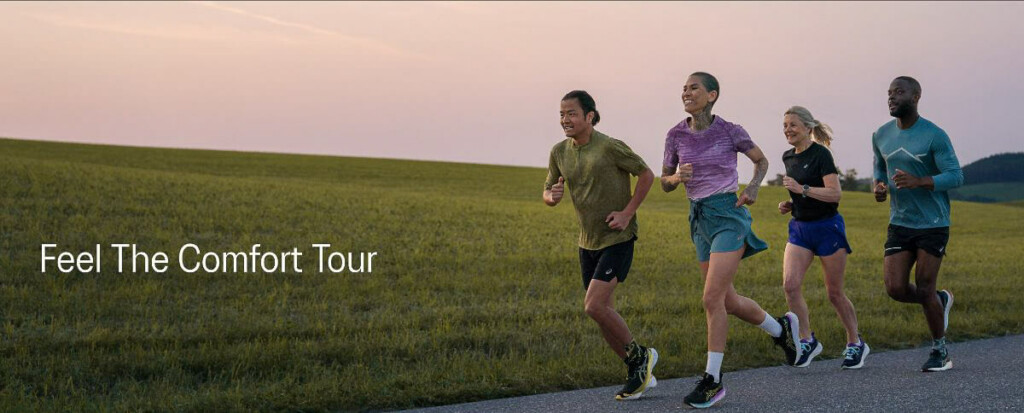 Asics, acronimo della frase latina "Anima Sana In Corpore Sano", ha da sempre come mission ispirare le persone a fare movimento per sperimentare il potere edificante che lo sport ha sulla mente, oltre che sul corpo. La salute mentale è un tema sensibile per l'azienda giapponese: negli anni, infatti, sono state condotte diverse ricerche che hanno dimostrato quanto lo sport impatti positivamente nella vita quotidiana e aiuti al raggiungimento di un benessere psicofisico.
Durante le tappe italiane di Feel The Comfort Tour, che toccheranno città come Milano, Torino e Roma, i consumatori avranno l'occasione di partecipare alle Mind Run, concentrando la propria attenzione sulla respirazione e sulla consapevolezza prima di correre.
Quasi un terzo (32%) dei runner italiani non è a conoscenza dei benefici che diversi modelli di calzature sono in grado di dare sulla base di andatura e/o stile di corsa. Per questo, gli esperti di Asics saranno a disposizione per i test prodotto, guidando gli appassionati nella scelta del modello più idoneo alle proprie esigenze. È anche sulla base di questo dato che nasce questo Tour: grazie ai consigli degli esperti, i partecipanti potranno trovare non solo la scarpa più adatta al proprio stile di corsa, ma anche approfondire le nuove tecnologie che il brand ha studiato appositamente per garantire la massima comodità.
Il comfort è il primissimo elemento che ogni runner tiene in considerazione quando acquista un paio di scarpe. Indipendentemente dal ritmo, dalle preferenze o dagli obiettivi, non c'è niente di meglio che correre con le scarpe da corsa più comode di sempre, proposte da Asics. Tra i modelli sarà possibile testare GEL-NIMBUS 25, GEL-CUMULUS 25 e GEL-KAYANO 30.
Queste le tappe del Feel The Comfort Tour di Asics:
Martedì 19 settembre a Milano da WHY RUN
Martedì 26 settembre a Verona da Km Sport
Sabato 30 settembre a Roma da Go Running
Sabato 7 ottobre a Arcugnano (VI) da iRun
Sabato 14 ottobre a Milano da Don Kenya
Domenica 15 ottobre a Torino da Giannone Sport
Sabato 21 ottobre a Torre Boldone (BG) da Ready to Run
Sabato 21 ottobre a Roma da LBM Sport
Questo il link per effettuare l'iscrizione al Tour: https://asics.endu.net/