Per neofiti e corridori consolidati l'arrivo dell'inverno è sinonimo di calo motivazionale, ma questo non è il momento di mollare; anzi ora bisogna cominciare a mettere le basi per futuri successi sportivi.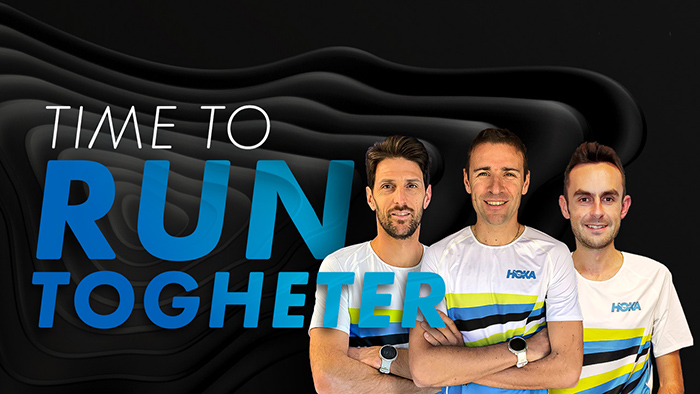 Lo sanno bene i ragazzi del team Hoka One One che, con il progetto Time to run together hanno calato tre assi del calibro di Franco Collé, Alex Baldaccini e Alessandro De Gasperi a supporto di chi volesse avvicinarsi al mondo della corsa o provare a migliorare le proprie performance. Il format è semplice e collaudato, ci si interfaccia via web per poi mettere in pratica i consigli sul campo.
Time to run together è la seconda edizione di una fortunata iniziativa sperimentata lo scorso inverno e che ha visto protagonisti nel ruolo di tutor il re del Tor des Géants Franco Collé e l'azzurro di corsa in montagna Alex Baldaccini. Ora a questo collaudato binomio si è aggiunto il triatleta trentino Alessandro Degasperi. Obiettivo: fornire consigli preziosi non solo a chi corre in montagna e off road, ma anche ai triatleti e gli stradisti. Il lancio ufficiale con i dettagli dell'iniziativa verrà fatto in una diretta sulla pagina facebook Hoka Fan Italia e su quelle dei tre atleti venerdì 4 dicembre alle ore 21.00.
Vi possiamo anticipare che l'inserimento di Degasperi non sarà l'unica novità. Si parla infatti di veri e propri test di valutazione in centri specializzati, di un trail camp con gli atleti del team sui sentieri del Tor des Géants, di una partnership con aziende top del settore outdoor montagna e di una membership card con offerte riservate su una serie di prodotti. Se siete interessati, non perdete la diretta di martedì.
Tale progetto è nato nei primi mesi del 2020 per dare un supporto tecnico gratuito a chi, dopo lo stop forzato da lockdown, voleva ripartire con la corsa. Un'iniziativa coordinata da Franco Collé e Alex Baldaccini che ha riscosso unanimi consensi. Quasi 1000 persone iscritte. 12 settimane di programma allenamento (livelli easy, medium e strong). 7 dirette interattive con l'intervento di atleti, fisioterapisti, medici, nutrizionisti, preparatori atletici, istruttori. 7 newsletter inoltrate a tutti gli iscritti del programma. Gruppo chiuso su Facebook per rispondere alle domande degli atleti. Membership card per ciascun iscritto con sconto del 20% sui prodotti Hoka. Camp sui sentieri del Tor des Géants con gli atleti del team Hoka nel mese di giugno.