The Electric Trail in programma domenica 22 marzo 2015 è la gara in bassa Valle d'Aosta che unisce sport, cultura, storia e ambiente.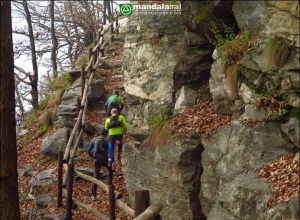 Point Saint Martin – È ufficialmente iniziato il conto alla rovescia di avvicinamento alla quinta edizione della gara The Electric Trail, organizzata dal Cral Thermoplay Team, azienda che ha sede in Valle d'Aosta. The Electric Trail è un trail di montagna, che vede il percorso disegnato sui sentieri della bassa Valle d'Aosta. Una gara che regalerà forti emozioni a tutti coloro che si vorranno cimentare sui due percorsi.
Il primo, più accessibile a tutti: 18 km con 1350 metri di dislivello, partenza alle ore 8,30 (tempo massimo 5 ore). Gara tecnica e impegnativa, è paragonabile ad una skyrace, per l'alternanza di ripide salite e discese a rotta di collo su gradini e gradoni che richiedono un notevole impegno per rimanere in equilibrio.
Il secondo percorso, più tecnico, ma sicuramente affascinante, 42 km con 3600 metri di dislivello, partenza alle ore 7,00 (tempo massimo 12 ore). La prima salita rende subito l'idea della severità del percorso, un breve tratto costeggia addirittura i tubi che portano l'acqua alla centrale elettrica a valle, raggiungendo una pendenza di 45°. Si percorrono sentieri in mezzo ai boschi, bellissime mulattiere e si transita tra ricordi di storia napoleonica.
Le iscrizioni procedono a pieno ritmo sul sito dedicato di Wedosport, tra gli iscritti sono confermate le presenze di diversi stranieri. Ricco il programma di contorno, il giorno antecedente della gara verrà allestito il Village Electric Trail presso i giardini pubblici di Pont Saint Martin, luogo anche di partenza e arrivo della gara. Le novità di quest'anno sono, oltre al Village, l'Aperitivo offerto a tutti gli atleti e open bar per accompagnatori e tifosi la sera prima della gara. Durante il pomeriggio di sabato si potrà comprare o semplicemente curiosare tra gli stand del Village, con molte aziende presenti, così come si potranno assaggiare i prodotti tipici della Valle D'Aosta.
Altrettanto ricco il pacco gara per gli atleti, che comprende maglia tecnica Buff con logo trail e sacchetto dello stesso colore della maglia e del Buff, integratori Kratos e altri buoni sconti offerti dalle aziende, e tante sorprese che verranno svelate solo tra qualche settimana. Scoprite tutto sul sito www.theelectrictrail.com dove troverete regolamento, programma e moduli di iscrizione da far pervenire entro il 19 marzo. Come lo scorso anno l'Electric Trail lungo dà diritto all' assegnazione di 1 punto qualificante per l'Utmb del 2016.