Buongiorno lettori, visto il notevole interesse che avete mostrato verso il precedente articolo che parlava delle differenze biomeccaniche esistenti fra corsa in salita e corsa in discesa (che potete rileggere qui), oggi rimarremo in tema. Cercheremo infatti di capire da dove provenga il mal di gambe dovuto alla corsa in discesa e di trovare piccoli trucchi per combatterlo. Anche oggi vi invito, se qualcosa non vi è chiaro o non vi convince appieno, a lasciare un commento qui.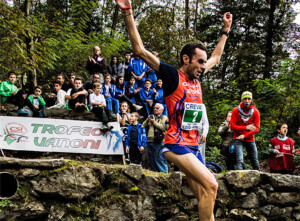 Tutti quelli che praticano corsa up&down, o che anche solo per sbaglio si sono ritrovati ad affrontare una discesa di corsa, hanno certamente sperimentato il mal di gambe che ne deriva nei giorni successivi. Questo mal di gambe è solitamente indicato con il termine DOMS, acronimo inglese per dire indolenzimento muscolare ad insorgenza ritardata, definizione che si adatta piuttosto bene al dolore provato dopo una discesa; dolore che, appunto, aumenta di intensità col passare delle ore e solitamente raggiunge il suo picco a distanza di 48 ore dalla gara.
Questo dolore è causato essenzialmente da microtraumi avvenuti all'interno delle fibre muscolari, che portano ad una vera e propria riduzione della forza muscolare del quadricipite e del polpaccio in primis. Altro fattore importante da registrare è che la corsa risulterà essere meno efficiente e più dispendiosa, questo perché il massimo consumo di ossigeno (VO2max) aumenta considerevolemente in seguito ad una prova in discesa, sempre a causa dei microtraumi.
Come reagisce il nostro corpo?
Nelle uscite successive allo sforzo in discesa il nostro organismo mette automaticamente in atto alcune modifiche alla biomeccanica di corsa per evitare ulteriori danni e ridurre il dolore, in particolare: aumento della cadenza di corsa (passi più brevi e frequenti), ridotta mobilità della caviglia e del ginocchio. In parole povere cerca di far lavorare il meno possibile la muscolatura già dolente e affaticata.
[smart-grid row_height="180″ mobile_row_height="180″ font_family="Helvetica, Arial" title="false"]

[/smart-grid]
Come possiamo prevenire (o attenuare)?
Adottare una cadenza di passo maggiore rispetto a quella abituale, ovvero passi corti e rapidi, e la capacità di cambiare più volte tipo di appoggio del piede al terreno all'interno della stessa discesa, sono due strategie piuttosto utili per ridurre i microtraumi muscolari. La loro applicazione pratica richiede però un'ottima padronanza del gesto, conoscenza di se stessi e sicuramente deve essere testata in allenamento. Al contrario di quanto si potrebbe pensare invece sembrerebbe che la scelta della scarpa non influenzi in modo significativo il mal di gambe post discesa. Tuttavia il metodo più pratico rimane, come sempre, l'allenamento. La rigenerazione delle fibre danneggiate da una corsa in discesa le renderà più forti e resistenti, rendendole quindi pronte ad affrontare al meglio nuove prove.
Per concludere possiamo affermare che inserire prove in discesa nel proprio programma di allenamento è fondamentale se si vogliono affrontare gare off-road con percorsi saliscendi. Attenzione però a lasciare trascorrere il giusto tempo fra una seduta e l'altra per permettere alle fibre di ripararsi ed evitare sovraccarichi e, per lo stesso motivo, ad evitare competizioni troppo ravvicinate.
Alex Baldaccini di AB Fisio
Studio Fisioterapico della Val Brembana
Bibliografia
Giandolini M, Vernillo G, Samozino P, Horvais N, Edwards WB, Morin JB, Millet GY. Fatigue associated with prolonged graded running. Eur J Appl Physiol. 2016 Oct;116(10):1859-73.
Sheehan RC, Gottschall JS. Preferred step frequency during downhill running may be determined by muscle activity.