E' partito il 1° marzo il ciclo di appuntamenti-video con "Le storie di A World of Athletics", finalizzato a far conoscere al pubblico la Nazionale paralimpica di Atletica in avvicinamento ai Campionati Europei di Grosseto del prossimo 10-16 giugno, ultima opportunità di qualificazione per le Paralimpiadi di Rio.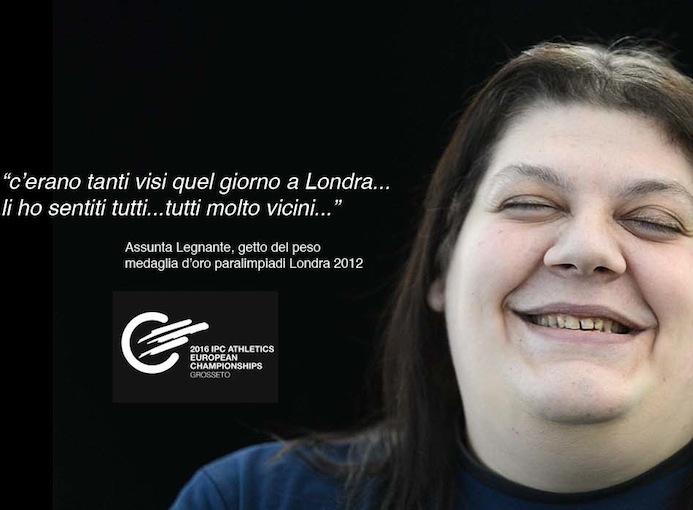 Ogni settimana nell'ambito della campagna promozionale di A World of Athletics – Un Mondo di Atletica, che sostiene l'enorme potere di inclusione di questa disciplina, saranno presentate le storie di vita e di sport degli Azzurri che continuano a regalare all'Italia importanti risultati ed emozioni indimenticabili a livello nazionale ed internazionale.
La campagna A World of Athletics, lanciata dal Comitato Organizzatore di Grosseto 2016 e dalla FISPES, promuove l'uguaglianza tra Atletica olimpica e Atletica paralimpica. Lo sport è per tutti e di tutti in modo indistinto. Esiste una sola Atletica, un unico mondo di Atletica, un solo spirito di Atletica aperto a tutti, normodotati e persone con disabilità.
Il primo ritratto, inedito e straordinario, riguarda la fuoriclasse Assunta Legnante, classe 1978, due volte campionessa mondiale nel getto del peso F11 (categoria non vedenti), detentrice del record iridato con la misura di 17,32 metri e medaglia d'oro alle Paralimpiadi di Londra 2012. Agli Europei di Swansea 2014, ha conquistato l'oro nel peso e anche nel disco. Prima di perdere la vista, la lanciatrice napoletana ha avuto una carriera di alto livello nell'Atletica olimpica, culminata con l'oro nel peso agli Europei indoor del 2007 e preceduto dall'argento dell'edizione 2002. In quello stesso anno, a Genova, aveva stabilito l'ancora attuale primato assoluto indoor della specialità di 19,20.
Clicca qui per conoscere la storia di Assunta.
I video sono realizzati in collaborazione con Ability Channel, web media partner degli Europei.
www.grosseto2016.it
(Ph: organizzazione)