La challenge "Trentino MTB presented by crankbrothers" chiude un anno di soddisfazioni. Celebrazioni ufficiali sabato a Trento alle ore 15.00. Premiati i primi 5 di categoria, i "Friends of Trentino MTB" e i primi nel GP dello Scalatore. Attese novità per la prossima stagione di mountain bike.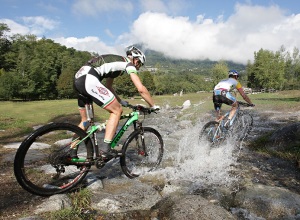 Cala il sipario su "Trentino MTB presented by crankbrothers" 2015, una stagione di gare di alto livello, di sfide all'ultima curva, il tutto circondati dall'immensità dei paesaggi trentini. Ogni anno che passa in sella ad una mountain bike è un anno che insegna qualcosa di più sulla sfida con sé stessi, su cosa significhi salire e scendere, nella bicicletta come nella vita.
Sabato 24 ottobre alle ore 15.00, presso la Sala Don Guetti di Cassa Centrale Banca a Trento, verranno celebrati i primi cinque classificati di ogni categoria, le prime cinque squadre, coloro che avranno partecipato a tutte le gare della stagione ed i grimpeurs che si sono aggiudicati la classifica dello Scalatore. Le sfide fra bikers hanno animato le più suggestive località della provincia trentina, con le sei prove che dal 3 maggio al 4 ottobre hanno caratterizzato gli sterrati di Val di Non, Alpe Cimbra, Pinzolo, Val di Fiemme, Val di Sole e Valsugana, con le rispettive ValdiNon Bike, 100 Km dei Forti, Dolomitica Brenta Bike, La Vecia Ferovia dela Val de Fiemme, Val di Sole Marathon e 3TBIKE.
Migliaia di bikers si sono presentati scalpitanti al via delle tappe di Trentino MTB, e molti di questi sono riusciti a partecipare a tutte. Per questo motivo, oltre a ricevere un bonus in classifica con un bel bottino di punti, chi ha portato a termine tutte le prove riceverà anche il titolo di "Friend of Trentino MTB". Gli altri riconoscimenti andranno ai vincitori assoluti, ai primi di categoria: M1, M2, M3, M4, M5, M6, Junior, Open, Élite sport, femminile, ai migliori Teams e ai vincitori uomo e donna del GP dello Scalatore, che si porteranno a casa premi in denaro e prodotti locali trentini.
Alessandro Bertagnolli, Mauro Dezulian e tutto lo staff di Trentino MTB, oltre a premiare i "prodi" del circuito, annunceranno le novità della prossima edizione, per un'altra entusiasmante stagione off-road, perché è andando in bicicletta, in mountain bike in particolare, che si imparano meglio i contorni di un paese, le sfumature, i dettagli, che dapprima sembreranno insignificanti, ma che si potrebbero rivelare fondamentali per determinare l'esito di una gara. Info: www.trentinomtb.com
Ph. Newspower Canon