Si è svolta con successo questa mattina la prima StraWoman "We run the world" bresciana: corsa di 5 km non competitiva. Un'intera giornata dedicata al gentil sesso tra sport, divertimento e sensibilizzazione.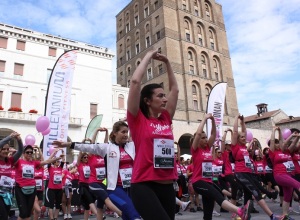 Brescia, 24 maggio 2015 – Anche Brescia conquistata dall'entusiasmo della Strawoman "We Run the World" la marcia dedicata alle donne organizzata da Italia Runners. Dopo le tappe di Monza Bergamo e Como, la prima edizione bresciana si chiude con oltre 2mila donne, che si sono date appuntamento questa mattina in Piazza della Vittoria e hanno affrontato il percorso di 5 km e colorato di rosa le strade della città. Non solo sport: è stata una vera mattinata di festa e intrattenimento per le donne di Brescia e dintorni, sotto la guida di Francesco Nasti speaker di Radio Viva Fm che dal palco ha scandito le varie fasi: dal riscaldamento muscolare alle spettacolari performance di danza ritmica acrobatica curate dai trainers della palestra Millennium, fino alle ore 10.00 con il via ufficiale alla gara attraverso il centro storico della città.
La Strawoman, patrocinata dal Comune di Brescia e da Expo 2015 è anche un evento solidale, contribuisce e dà visibilità alle associazioni attive nella tutela dei diritti delle donne tra cui l'Associazione Cuore di donna attiva anche per la prevenzione contro i tumori. Grande allegria anche durante le premiazioni a fine gara, sempre ritmate da Radio VivaFM. Sono state premiate le tre StraWomen più veloci, ma anche altre categorie come la più runner anziana, il gruppo più numeroso e quello più folkloristico. Medaglie per tutte e premi messi a disposizione dagli sponsor. In premio anche copie del libro sull'autodifesa istintiva per donne e categorie sensibili "Basta paura"di Mario Furlan, giornalista autore e fondatore dei City Angels.
L'associazione sportiva Italia Runners ringrazia il Comune di Brescia per il supporto, i volontari, gli sponsor, i partner, le associazioni che hanno reso possibile la manifestazione e i media che l'hanno seguita. Ricorda anche le prossime date con Strawoman Tour il (6/06 Como, 13/6 Bergamo, 20/09 Monza), la Fluo Run (5/07 Milano Marittima, 10/07 Milano, 17/07 Bergamo, 26/09 Lugano), la Derby Run (Milano), la Babbo Running (08/12 Como, 12/12 Milano, 13/12 Genova, 20/12 Bergamo), 31 Run (31/12 Milano).